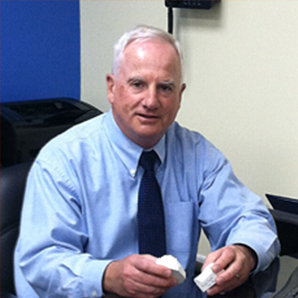 Dr. Woods received a Bachelor of Science in Chemistry from Boston College in 1974. Pursuing his interest in dentistry, Dr. Woods continued his education at Tufts University School of Dental Medicine and graduated with a Doctorate of Dental Medicine in 1978. After receiving his dental degree, Dr. Woods was commissioned as a lieutenant in the U.S. Navy Dental Corps. While working as a Navy dentist, Dr. Woods treated medically compromised patients and worked with an oral and maxillofacial surgeon in the repair of traumatic injuries to the teeth and jaws. During his military service, Dr. Woods became interested in tooth movement and skeletal growth and development.
To help patients with the correction of orthodontic and orthopedic problems, Dr. Woods pursued additional graduate education at the University of Pennsylvania School of Dental Medicine where he became certified as a board-eligible orthodontist in 1982.
Dr. Woods is a native of the Boston area and has had a family summer residence on Cape Cod since his childhood. He has been living in Sandwich with his family since he began his orthodontic practice, Woods Orthodontics, PC, in 1982. The practice specializes in the guidance of dental development for children as well as orthodontics and orthopedics for pre-teens, teenagers and adults. He is not only Invisalign® certified but is proficient in the movement of teeth with multiple clear aligner systems and traditional braces.
Always interested in continuing education, Dr. Woods keeps abreast of the changes in orthodontics through courses provided by various dental organizations. Therefore, he is a member of the American Association of Orthodontists, the American Dental Association, the Massachusetts Dental Association, the International Association of Orthodontists, and the College of Diplomates of the American Board of Orthodontics. Dr. Woods completed all phases of board certification to become certified as a Diplomate of the American Board of Orthodontics in 1992.
For 36 years, Dr. Woods was a guest speaker at the University of Pennsylvania School of Dental Medicine, teaching dentists in the orthodontic graduate program. In addition, Dr. Woods taught in the orthodontic department at Tufts University School of Dental Medicine until recently. At times, Dr. Woods will present lectures at various meetings and universities on orthodontic topics.
When not at his practice, Dr. Woods spends time with his wife and their three children. He is a sports enthusiast who enjoys boating, windsurfing, golfing, and skiing.