LYTHOSTM Digital Impression System

Our office is proud to offer the Lythos™ Digital Impression System—a way to capture highly detailed, three-dimensional images of your teeth and mouth for diagnostic, restorative, and cosmetic procedures. Using this state-of-the-art digital technology, we can reduce the need for taking traditional poly-vinyl siloxane (PVS) and alginate impressions, which are taken to obtain diagnostic study models, nearly eliminating the goop and discomfort synonymous with traditional impressions.
Lythos delivers dual-arch capture in less than ten minutes, meaning you'll spend less time in the chair and won't have to deal with traditional goopy impressions that makes you gag. A smaller wand tip gives us the ability to capture data in a wet environment (which means no messy powders or coating are involved), resulting in higher patient comfort and less chair time. Also, in the past, it was point-and-click technology that limited us to a single image capture, whereas with Lythos' technology, which captures data in real time, we can acquire high-definition quality at all angles of the scanned tooth surface.
With Lythos, we can:
Scan: The small, pen-like scanning device easily fits into even the smallest parts of your mouth with very little discomfort.

Process: Because we can re-scan any area during the process, we can stop and start as many times as needed to ensure your comfort.

Review: Your scan can be reviewed on-screen at any point during the scan, and the touch screen can be used to rotate the image to help you visualize your oral health and treatment needs.
Lythos ensures better appliance fit with fewer chairside adjustments, meaning you'll spend less time in our office and more time showing off your smile to the world! Ask a member of our team about the Lythos Digital Impression System the next time you're in our office!
ORTHOPHOS XG 3D X-Rays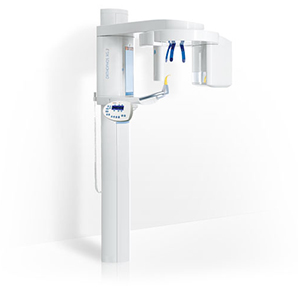 Digital 3D technology is quickly becoming the standard of care when it comes to dental imaging. Our office is committed to providing the highest quality of orthodontic care, and we're proud to introduce the ORTHOPHOS XG 3D X-ray unit into our practice. When it comes to your orthodontic needs, ORTHOPHOS XG 3D allows us to plan all aspects of your care with precision and accuracy.
ORTHOPHOS XG 3D is the most popular X-ray unit in the world, and for good reason.
ORTHOPHOS XG 3D images are highly detailed, showing both soft and hard tissue without sacrificing clarity.
An ORTHOPHOS XG 3D scan takes less than a minute, is completely painless, and uses a radiation dose that is less than traditional X-rays.
We can analyze the position and orientation of critical structures, like nerves, teeth roots, the sinus, and nose, helping to make your diagnosis as accurate as possible.
With this advanced imaging technology, we are able to ensure the long-term stability of your smile better than ever before.